This is your monthly real estate market update for Anne Arundel County Maryland with James Bowerman, your Pasadena MD Realtor and the Real Creative Group of Compass.
Last year we saw interest rates sky rocket from the 3's all the way up to the 7's due to inflation in the US economy. However, rates have been coming back down since November of last year, and are now sitting around 6.3% for a 30 year fixed mortgage.
In the Fed's February meeting, they raised the Fed rate 0.25 basis points, which is less than previous increases. This is good news because they believe inflation is beginning to come down, and they will be slowing and eventually halting any additional increases moving forward. The result of this, I believe, is that interest rates for mortgages will continue to fall and settle somewhere around 5% this year.
However, this doesn't solve the housing shortage problem that we've been dealing with for the last few years. When we look back to January of 2020, there were 1,500 homes active for sale, which is 3X more than what's currently available.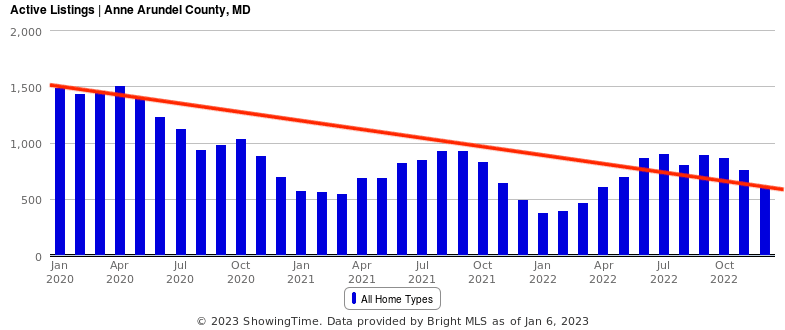 In the past few weeks there has been a 25% increase in home mortgage applications. This means buyers are gearing up to enter the Spring housing market. The question is, will there be enough supply to handle the demand? The answer to this question is an unfortunate NO.
Compass is a national brokerage, with a heavy focus around collaboration. My colleagues and I are already seeing an increase in showings and multiple offers on properties. That window of opportunity I spoke about last month is closing fast!
Ultimately, home buyers are becoming more accepting of the new interest rates, and should be optimistic that they will be coming down, in which case they can refinance down the road. Sellers will again be in control due to the low supply, and I believe the bulk of listings will come from Baby Boomers with lots of equity and who aren't worried about rates.
The general consensus is that it's going to be another very competitive housing market this year. If you're thinking about making a move in 2023, now is the time to get started, so please don't hesitate to reach out!
Anne Arundel County, MD Housing Inventory
Let's take a quick dive into a few of the key metrics for Anne Arundel Counties housing market.
Coming Soon: There are 68 homes coming soon to the market, which is 19 more than last month. Properties cannot be in the Coming Soon status for more than 21 days.
Active Listings: There are 513 properties currently active for sale. This is 67 fewer homes compared to last month, but a 27% increase compared to this time last year.
Under Contract: There are 723 homes under contract and no longer available to tour or purchase. This is 95 more properties compared to last month, and a 39% increase compared to this time last year.
Homes Sold: There were 371 homes sold during the month of January. This is 130 fewer home sales compared to the previous month, and a 31% decrease compared to this time last year.
Anne Arundel County, MD Average Time on Market
The average days on market increased to 32 days, which means homes sold 2 days slower on average compared to the previous month. In the last 30 days there have been 200 price reductions, which is more than the previous 30 days and about 39% of the active inventory.
Average Home Prices
The average home sale price in Anne Arundel County in January was $525,288, which is a 12% increase compared to prices in January of 2022.