This is your monthly real estate market update for Anne Arundel County Maryland with James Bowerman, your Pasadena MD Realtor and the Real Creative Group of Compass.
Housing inventory continues to remain at historic lows while interest rates are bouncing around between 6 and 7 percent. This low supply and steady demand from homebuyers has put us in a very familiar position with bidding wars that are driving up property values. Not only are homes selling for an average of 5% more than a year ago, but interest rates have nearly doubled. Affordability is a major concern, so what you should be focusing on is your monthly payment.
If you were to buy a $500,000 home one year ago at a 3.7% interest rate using a 30 year fixed conventional loan with 5% down, your monthly payment would be $2,186, not including taxes and insurance. Today, that same home is selling for $525,000 and with a 6.7% interest rate, your monthly payment increases over one thousand dollars per month to $3,218. This is where working with a great mortgage broker can really help you not only get a low rate, but the best loan product that can reduce your monthly payment.
Home prices historically go up over time, and housing crashes are extremely rare. It's only because the last time it happened was so dramatic and recent (2007-2009) that we tend to think another one is coming. Although we do see fluctuation from quarter to quarter, when we look at the historical data, home prices in the US have always been on an upward trajectory. In fact, since 2020 they've been increasing exponentially!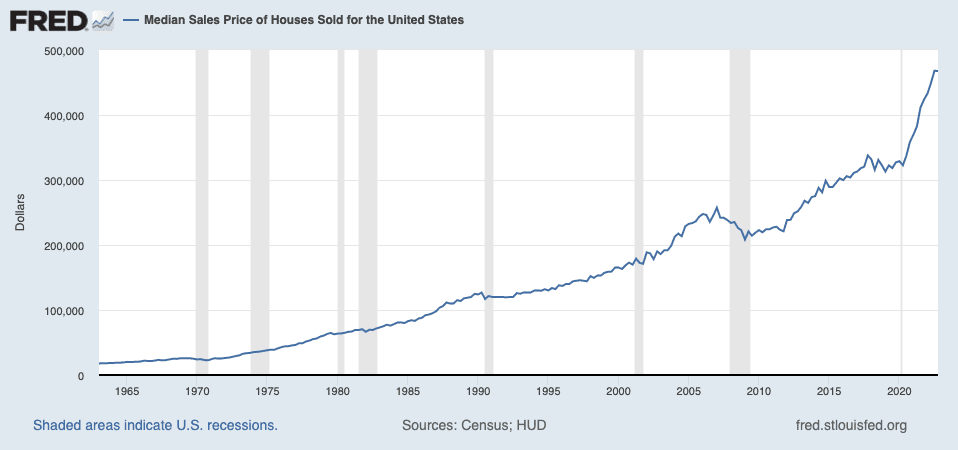 The reality is that most people don't buy and sell real estate quarterly. In fact, as of 2018, the median duration of homeownership in the U.S. is 13 years! This is why real estate is a good investment for the long term. If you purchased a home in 2010, your home's value on average would be 110% higher today! Not only does owning real estate build wealth, but you get to enjoy living in your home while you own it. What other investment vehicle does that?
Anne Arundel County, MD Housing Inventory
Let's take a quick dive into a few of the key metrics for Anne Arundel Counties housing market.
Coming Soon: There are 100 homes coming soon to the market, which is 21 more than last month. Properties cannot be in the Coming Soon status for more than 21 days.
Active Listings: There are 502 properties currently active for sale. This is 11 fewer homes compared to last month, and a 3% decline compared to this time last year.
Under Contract: There are 935 homes under contract and no longer available to tour or purchase. This is 107 more properties compared to last month, but a 31% decrease compared to this time last year.
Homes Sold: There were 569 homes sold during the month of March. This is 118 more home sales compared to the previous month, but a 33% decrease compared to this time last year.
Anne Arundel County, MD Average Time on Market
The average days on market decreased to 27 days, which means homes sold 4 days faster on average compared to the previous month. In the last 30 days there have been 178 price reductions, which is more than the previous 30 days and about 36% of the active inventory.
Average Home Prices
The average home sale price in Anne Arundel County in March was $539,440, which is a 5% increase compared to prices this time last year.